12 Face Mists To Try If You're Feeling The Heat
DISCLAIMER
This blog has not been approved by your local health department and is not intended to provide diagnosis, treatment, or medical advice. Read More

This blog has not been approved by your local health department and is not intended to provide diagnosis, treatment, or medical advice. The content provided on this blog is for informational purposes only. Please consult with a physician or other healthcare professional regarding any medical or health-related diagnosis or treatment options. Information on this blog should not be considered as a substitute for advice from a healthcare professional. The claims made about specific products throughout this blog are not approved to diagnose, treat, cure, or prevent disease.
In this article: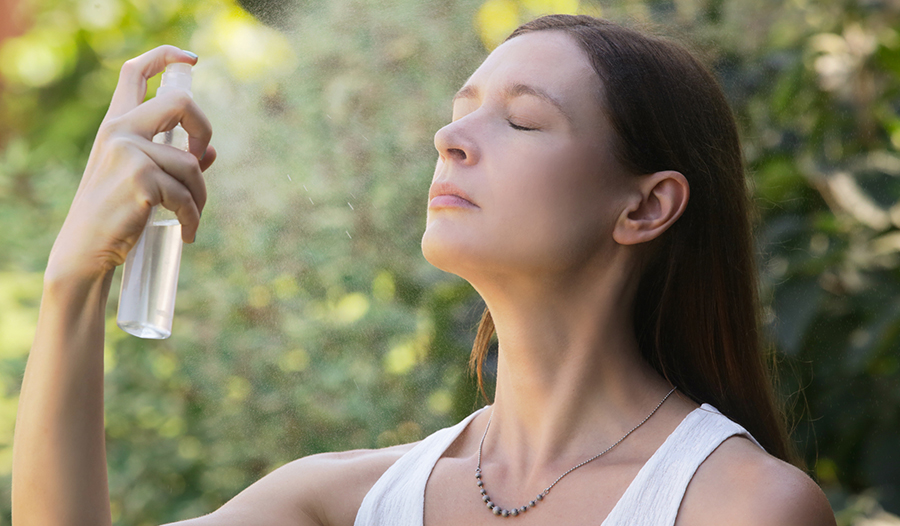 Ahh, face mists. There's nothing more satisfying than a refreshing facial mist when applying your skincare, when you need to prime or set your face, if you need a little pick me up in the middle of your day or when you just need to beat the summer heat. All are great reasons to mist your face.
Here are 12 different face mists to check out if you want that face mist life!
1. Heritage Store Rosewater & Glycerin Face Mist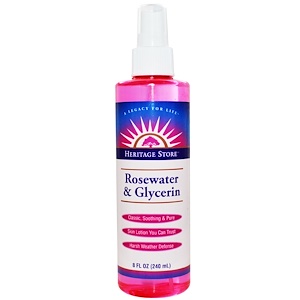 The #1 bestselling face mist on iHerb Beauty is the Heritage Store Rosewater & Glycerin Face Mist. With over 2,700+ reviews and an almost 5 star rating, this facial mist is as pure and simple as it gets.
With just three natural ingredients: water, vegetable glycerin and rosa damascena (hydroessential rose) oil, this mist adds a light later of hydration for a dewy glow as part of your skincare, can be used to set your makeup, or even combined with your favorite mask for a lovely, rose-scented boost.
If you love scent of roses, this one should be at the top of your list. Available in 8oz (240ml), 4oz (120ml) and 2oz (59ml). For those who want to avoid glycerin, there is just a plain rosewater mist as well.
2. Pixi Beauty Hydrating Milky Mist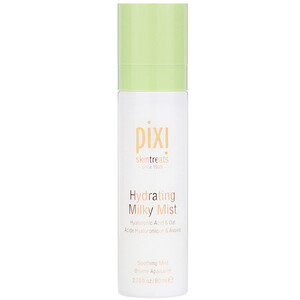 Pixi Beauty makes a variety of mists, such as the popular Glow Mist, the rose version of the Glow Mist, the Vitamin Wakeup Mist and the Makeup Fixing Mist with Rosewater and Green Tea, but our absolute favorite is the Hydrating Milky Mist.
Formulated with hyaluronic acid and black oat seed extract, this mist is moisturizing, but not in a heavy way. It's also not too light either where the moisture fades away once it dries. It's perfect on its own as a hydrating layer of skincare, or to "meld" layers of makeup together to avoid the cakey and powdery look. We love using it after rinsing our faces off after a workout, or while traveling on a plane where the recycled air is extremely drying.
Spritz it on whenever you need a dose of glowy hydration.
3. Saturday Skin Daily Dew Hydrating Essence Mist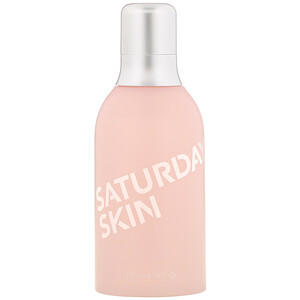 Did you know that K-Beauty brand Saturday Skin uses a patented ingredient in all of its products and it's what they're known for? Called "Cha-7 es Complex," this exclusive formula uses fermentation technology from seven different types of peptides that help to promote skin regeneration.
The Saturday Skin Daily Dew Hydrating Essence Mist not only has the peptide complex, but also antioxidant strong kiwi and grape extracts to help fight against free radicals. It's a powerhouse toner and essence all-in-one product, in a face mist delivery system. It is free of parabens, sulfates, artificial color and artificial fragrance, and is dermatologist tested for all skin types. If you're on the fence about this purchasing this one, just dew it!
4. Nature Republic Aloe Vera Soothing Gel Face Mist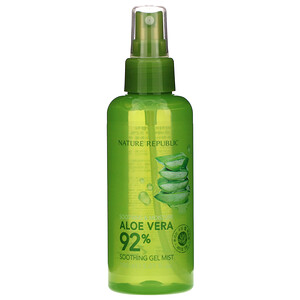 A perennial favorite, the Nature Republic Aloe Vera Soothing Gel Mist is not just for sunburns. Packed with 92% aloe, it is soothing on skin that has maybe seen a little too much exfoliation, skin picking (oops) or prodding.
For individuals living in a hot and dry climate yet suffer from oily skin, this mist is the ultimate pick-me-up. It also protects one's skin from environmental factors by forming a strong barrier over the skin. It is multifunctional as well, working on several areas of the body. You can spray some on your arms, legs and chest too.
Lastly, this mist does offer relief from painful sunburns due to aloe's ability to increase collagen in the body and calm down inflammation. Applying this to damp skin allows the mucopolysaccharides, which are sugars within the plant that help retain moisture in the skin, to work more effectively.
5. Trilogy Hydrating Face Mist Toner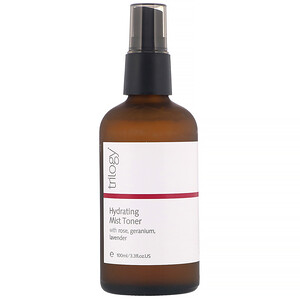 New Zealand founded brand Trilogy makes our favorite Certified Organic Rosehip Oil, so when we're in need of a certified natural, ethically sourced and cruelty free face mist, we turn to the Trilogy Hydrating Mist Toner.
This facial spray is formulated with rose, geranium and lavender essential oils and can help repair the skin's natural moisture barrier. Revitalizing, hydrating and uplifting are what this mist does best. Steer clear if you know your skin doesn't like essential oils, but for those of you who can tolerate them, this mist is a great pick if you are into natural products. Available in 3.3oz (100ml) and a purse friendly 0.67oz (20ml).
6. Pacifica Pineapple Flower Oil-Free Matte Face Mist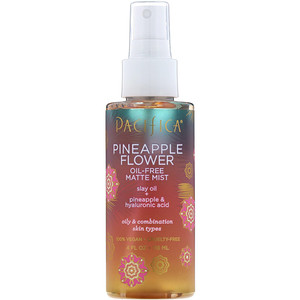 For anyone with a combination or oily skin type who needs some mattifying, Pacifica's Pineapple Flower Oil-Free Matte Face Mist is for you. Formulated with pineapple, hyaluronic acid, raspberry and black currant extracts, with a fresh pineapple scent, this mist is both hydrating and mattifying at the same time.
When used to set your face, it can prolong the wear time of your makeup and keep your face oils at bay. When used as a midday pick-me-up, the mist mattifies your face without drying it out. You feel refreshed and mattified, so you can ditch the blotting papers and touch up powder – which is something we thought we'd never say, especially during the hot summer heat.
All Pacifica products are 100% vegan and cruelty-free. This particular mist is also free of petroleum, parabens, SLS, phthalates and alcohol.
7. Dear Klairs Fundamental Ampule Mist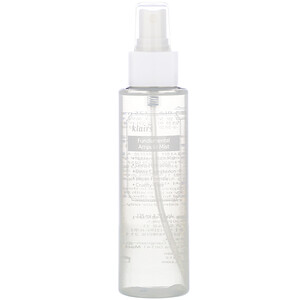 With the Fundamental line described as having premium formulation, the Dear Klairs Fundamental Ampule Mist is true to its name with its carefully curated ingredient list, and anchors itself nicely within any skincare routine.
It is formulated with rice, cucumbers, okra and mugwort extracts in a base of 82% green tea water. It is extra soothing for sensitive skin types, full of nutrient-rich botanicals, and provides intensive hydration in one spritz.
If you love a dewy skincare mist, you must check it out.
8. Mild By Nature Witch Hazel Unscented Face Mist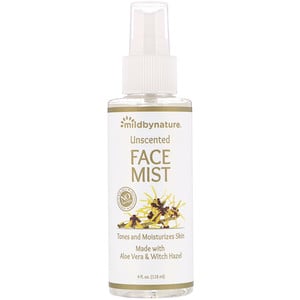 Witch hazel is an astringent liquid made from leaf, bark and twigs of the Hamamelis Virginiana plant. Containing tannis and polyphenols, witch hazel can reduce inflammation, cleanse the skin and reduce the appearance of pores.
Made for those sensitive to fragrance, this unscented witch hazel is great for oily or acne-prone skin as it lightly moisturizes while the witch hazel can dry out active breakouts and reduce oiliness. The Mild By Nature Witch Hazel Unscented Face Mist is made with all-natural ingredients such as aloe vera and grapefruit seed extract. It is formulated without GMOs, alcohol, parabens or phthalates and is vegan and cruelty free.
Spritz this mist on as part of your skincare routine, after cleansing and avoid the eye area.
9. Derma E Blue Light Shield Spray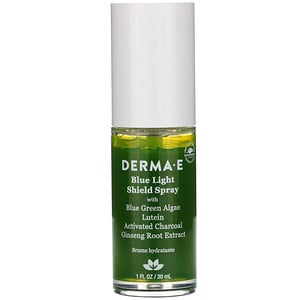 This face mist might be the most fascinating one on the list. The Derma E Blue Light Shield Spray is enriched with Lutein, with is a type of vitamin called a carotenoid. Related to beta-carotene, lutein is known colloquially as "the eye vitamin" as it may help to prevent eye diseases such as macular degeneration (vision loss). It is commonly found in foods like eye yolks, broccoli, spinach and kale.
It's unclear if lutein's protective abilities are beneficial when applied topically, but this mist claims to shield your skin from blue light, also known as visible light, that emanates from your device screens (i.e., computer screen, phone screen, etc.).
Other ingredients include blue green algae which is ultra-moisturizing and helps protect skin against environmental pollutants and reduces damage from free radicals, activated charcoal to detoxify and purify the skin, and ginseng root extract to improve elasticity and also help prevent free radical damage.
If you are someone who works in front of computer screens all day (let's face it, many of us do), or uses multiple devices at once, it might not hurt to try this mist out. If anything, it's a wonderful dose of free radical fighting antioxidants, which is always a plus.
10. Heimish Bulgarian Rose Water Mist Serum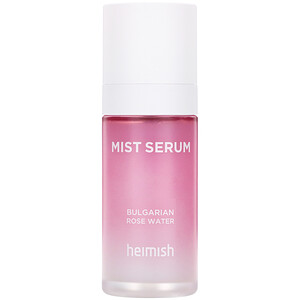 Heimish is a K-Beauty brand that sells the super popular and effective All Clean Balm, which is a cleansing balm that removes makeup extremely well. Yes, even waterproof eye makeup.
But, did you know their other skincare products are super popular as well? Coming in with 88% Bulgarian rosewater, the Bulgarian Rose Water Mist Serum is a super hydrating toner, mist and serum in one.
We all know that rosewater is the original toner, but when you add niacinamide, Portulaca Oleracea (Purslane) extract that is anti-inflammatory, full of antioxidants and wound healing abilities, along with lotus extract, you get a luxurious supercharged serum mist with brightening and anti-aging properties. What else needs to be said?
11. CosRX Centella Water Alcohol-Free Toner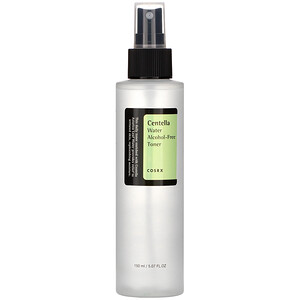 Ahh, CosRX, the creators of our favorite pimple patches and snail mucin essence. If you are looking for a simple, limited ingredient and soothing face mist, the CosRX Centella Water Alcohol Free Toner is the one for you.
Centella Asiatica is a miracle ingredient for those of us with sensitive or inflamed skin. Also known as "Cica" in K-Beauty skincare products, it calms and soothes skin irritations when we overdo it with the exfoliators or skin picking. It can help with wound healing, reducing redness for those who have rosacea, and helps to alleviate allergic skin reactions. We're glad that it's getting its well-deserved turn in the spotlight.
The CosRx mist is alcohol free, so it won't dry your skin when you use it, but instead hydrates the skin with a generous dose of Centella. If you can't get enough of Centella like us, you can layer the Blemish Ampule and Blemish Cream for even more of the good stuff.
12. Touch in Sol Metallist Galaxy Setting Spray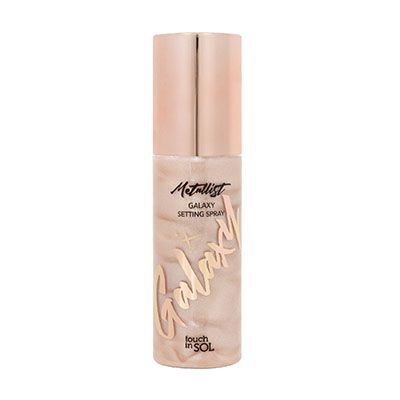 Combined with their bestselling No Poreblem Primer, the Touch in Sol Metallist Galaxy Setting Spray works hand-in-hand with the primer to create a smooth, poreless and glowy makeup look.
Used as the last step in your makeup routine, the setting spray is a light and moisturizing layer that melds the layers of your makeup together and sets it so that it lasts and glows all day. If you love to glow in glam makeup, this is the perfect summertime setting spray for you!
Spritz or Spray, There's a Face Mist For You
Whether you're using a face mist as part of your skincare or to set your face after makeup, there are tons of options out there. You can pick one based on some base ingredients like rosewater or green tea plus some antioxidant boosts, or based on the finish you desire, whether it's glowy skin or a matte complexion. Whatever you choose, stay refreshed and mist away!