How A Celebrity Makeup Artist Gets Ready for Work
DISCLAIMER
This blog has not been approved by your local health department and is not intended to provide diagnosis, treatment, or medical advice. Read More

This blog has not been approved by your local health department and is not intended to provide diagnosis, treatment, or medical advice. The content provided on this blog is for informational purposes only. Please consult with a physician or other healthcare professional regarding any medical or health-related diagnosis or treatment options. Information on this blog should not be considered as a substitute for advice from a healthcare professional. The claims made about specific products throughout this blog are not approved to diagnose, treat, cure, or prevent disease.
In this article: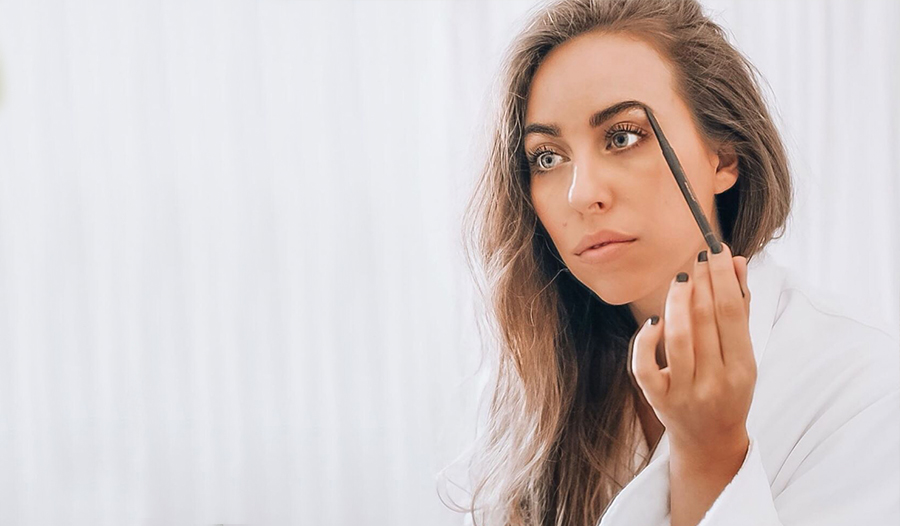 As a makeup artist, I work in an industry that can be demanding, fast-paced, high pressure, and very busy with early call times and late meetings or shoots. I like my mornings to be calm and productive, so I have set very specific rituals for myself to help set the tone for the day.
A successful morning starts with taking action, focusing my direction, and creating time. Is it easy? No! But for me, a strong morning routine sets me up for optimal health, focus, and success in life and business.
Here's what my morning routine—complete with the products that help me move through it—looks like.
A Productive Day Starts the Night Before
After my makeup brushes are clean and I pack up my makeup kit, it is essential for me to get a solid eight hours of good quality sleep. We have to give our minds and bodies proper time to rest and recharge. That means blue-blocking glasses are on after the sun goes down, electronics are put away one hour before bed time, the humidifier is turned on next to my bed so my skin doesn't become dehydrated while sleeping, and a soothing meditation eases me right into a relaxing, deep sleep.
In the morning, I wake up to my alarm that is soothing and soft, not an alarm that's cortisol-raising and loud. Then I can wake up feeling refreshed, energized and ready to start my day. Our brains cannot function properly with no sleep and when I am going to have a model, CEO, or celebrity in my chair, I need to make sure I am fully present. You won't do your best work if you are tired.
Taking Time to Get Centered
I don't use my phone first thing in the morning except to stop my alarm and do my morning meditation with my Insight Timer app. I avoid checking Instagram, Facebook, texts, and emails during the first hour of my day because I need to start the day on my own terms and not get sucked into scrolling on social media or feeling obligated and anxious to respond to my emails right away.
Each day of work is really different so I always give myself at least two hours of morning productivity time before I have to leave the house for some kind of daily consistency. As soon as I wake up, I immediately make my bed and open up the blinds to let the natural light shine. Making my bed helps me establish a clean space and feel accomplished just within the first few minutes of starting my day.
Next, I head into the bathroom to scrape my tongue and brush my teeth. I then chug a mason jar filled up with room temperature water with a little squeeze of lemon to hydrate my body after eight hours of sleep.
Taming My Tresses
When it comes to my hair, I like to work with my natural texture as much as I can. I add highlights to my hair maybe 1-2x a year. I wash my hair probably around every 3-4 days so my shampoos and conditioners last me a pretty long time. I use a gentle hydrating shampoo and conditioner. I also love a good hair mask to keep my hair hydrated and healthy, and usually leave it in for about 5-10 minutes.
My Daily Skincare Routine
Then comes my favorite part of my morning, my skin care routine. As a makeup artist and skincare expert, my skin is my money-maker, so I need to make sure I'm taking care of it as best as I can. I only cleanse my face at night using a gentle hydrating cleanser and in the morning, I just rinse my face with lukewarm water. I then pat it dry using a soft and clean towel followed by a quick but effective facial massage with an antioxidant serum and then I apply a moisturizer with SPF for daily sun protection.
I really love using my jade roller for face de-bloating and lymphatic drainage. I store it in the refrigerator so it feels cool on my skin which is great for using under tired eyes. It really wakes me right up.
My Morning Zen Time
After my skincare routine, I head into my Zen den. It is a space I created for myself to meditate and get grounded and calm. Meditation is a practice I do to expand and calm my mind. It allows me to remain humble and focused on my goals. It also keeps me from becoming overwhelmed throughout my day.
In my Zen den I put plants, crystals, palo santo, candles, a yoga mat, my meditation pillow, and I even put a hammock in there for when I want to zen out and read a book. Depending on how much time I have in the morning I can be in this space of my house for 10-40 minutes. This is my time to meditate, drink my warm lemon and ginger tea, read a book, pull out my journal to write down a specific and clear intention for my day, and to stretch. During my meditation I sit in front of my red-light therapy device. Red light is great for boosting collagen, healing and calming inflammation, and promoting skin health.
After my Zen time, I head into the kitchen to blend my smoothie. It's a quick, healthy, and easy way to get my fruits, veggies, and antioxidants in my system. My favorite smoothie is blueberry and cacao, which is loaded with antioxidants to help promote glowing skin. This fills me up and keeps me satisfied until I get to set which usually has catered food.
If the job I'm working isn't catered then I will eat two organic and grass-fed scrambled eggs with a side of avocado. It's important for me to get a little protein and good healthy fat. Good fats are essential for good health, skin, and hair and this really fuels me for my day. Along with my fresh whole breakfast, I will take a vitamin B12 supplement since I'm naturally deficient.
My Daily Makeup Routine
It may sound funny, but I actually don't wear too much makeup on a daily basis. I love to use a CC cream which I blend with a damp makeup sponge. It's a very lightweight consistency but covers any redness or blemishes. I never leave the house without applying my L'Oreal brow pencil and mascara. Lastly, I'll quickly tap on a little bit of blush and highlight to give me some natural color in my cheeks using Laura Mercier Blush Color Infusion.
Depending on my call time and if I have time to workout before my shoot, I'll skip my makeup routine and head to a lagree, boxing, or spin class. If I don't have much time, I'll take a 30-minute class which is perfect to get your body moving and blood pumping. I need to make sure I'm staying active and strong since I'm always carrying these big makeup bags around NYC!
I never leave the house without my phone charger, my lip balm, B12 supplements, and my reusable glass water bottle. When I'm finally ready to go, I'll put on a podcast and head to my job. I make sure to always listen to an educational or informative podcast in the morning—it really motivates and inspires me, which sets the tone for my day. Some of my favorite podcasts include School of Greatness, Highest Self, and Gloss Angeles.
Winding Down at Night
My favorite nighttime ritual is to take a soothing bath. I love to prep a blissful and relaxing bath with a pinch of lavender for aromatherapy. It's so good for your mind and body, and such a great way to unwind from a busy day on set and/or traveling. It is so nice to indulge and have a luxury bath experience right at home without spending a fortune. I grab some candles, dim the lights, put on a meditation or a soothing playlist, turn the salt lamp on, and Zen out.
Waking up 2-3 hours earlier in the morning and focusing on my wellbeing has had profound effects on my mood, my happiness, my health, my relationships, and even my work. The good news for everyone is that all habits can be learned and developed if you are dedicated and committed. I hope I've inspired you to make self-care part of your daily routine!